At Wellingtime, we believe that a wristwatch is more than just a timekeeping device; it's a statement of your individuality and a reflection of your unique style. That's why we are passionate about helping you elevate your style, and customise your Seiko watch. Seiko, the Japanese watchmaking giant, has a rich history of producing high-quality timepieces that serve as perfect canvases for personalisation. In this article, we'll delve into the world of customising your Seiko watch with Wellingtime and explore the myriad ways you can make your timepiece uniquely your own.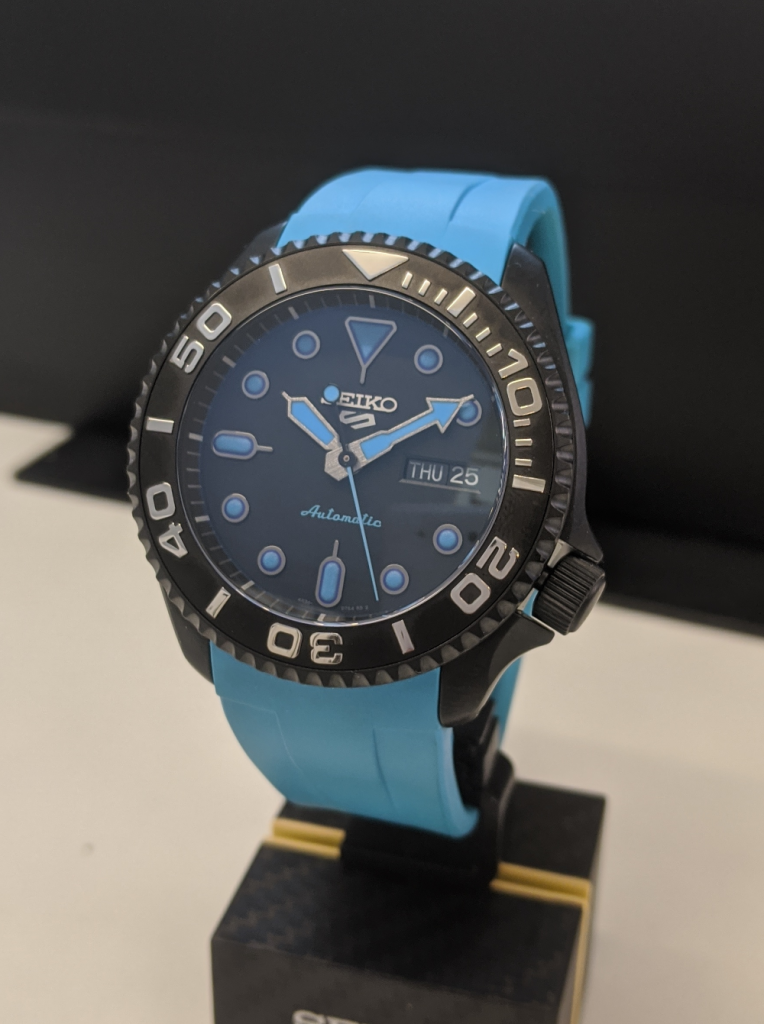 Wellingtime: Where Quality Meets Customisation
At WellingTime, we understand that quality and craftsmanship are at the heart of every Seiko watch. That's why we're proud to specialise in customing Seiko watches. A brand renowned for precision, durability, and innovative technology. Seiko has a diverse range of watch collections, from the iconic Seiko 5 to the luxury Grand Seiko, each known for its unique design and outstanding quality.
We're passionate about giving you the tools and inspiration you need to make your Seiko watch truly one of a kind. Our customisation services, offer a range of options to express your individual style and transform your Seiko into a personalised masterpiece.
Customising Your Seiko Watch with Wellingtime: A Personal Touch
Customising your Seiko watch is not just a matter of aesthetics; it's an opportunity to establish a deep personal connection with your timepiece. Here are some ways you can make your Seiko uniquely yours with the help of Wellingtime:
Changing the Watch Strap:One of the simplest and most effective ways to personalise your Seiko watch is by swapping out the strap.
Dial and Hand Modifications:For those looking to take customisation to the next level, consider changing the dial or hands of your Seiko watch. Wellingtime offers custom dials with unique designs, logos, and colour schemes. Upgraded hands can add a touch of elegance and personalisation to your timepiece.
Bezel and Insert Upgrades:Seiko dive watches, such as the Seiko SKX and 5KX series, are popular choices for customisation. The variety of bezel and insert availability is every evolving, you'll be offered a range of options to suit your needs.
Case Coatings:Take your customisation to a whole new level with case coatings. At Wellingtime, we offer various coating options, including Electro Plating, Cerakote, and PVD (Physical Vapor Deposition). These coatings not only enhance the aesthetics of your watch but also provide added durability and resistance to wear and tear. Whether you prefer a sleek black PVD finish, a rugged Cerakote coating, or a timeless electroplated case, these options allow you to make a bold statement.
Movement Services and Upgrades:At Wellingtime, we offer comprehensive movement services and upgrades for a wide range of calibres, including the popular 7000 series and the 7S Family. These movements are known for their reliability and are the foundation of many Seiko timepieces. Our experienced watchmakers can fine-tune your movement, ensuring it operates with the utmost precision. We offer cleaning, lubrication, and regulation services to optimize the performance of your watch. If you're looking to take your watch to the next level, we provide movement upgrades from the 7S25 and 4R35 to NE15 (6R15) that can significantly enhance accuracy and power reserve of the automatic movement.
The Personal Connection with Wellingtime
When you customise your Seiko watch with Wellingtime, it's not just about enhancing the aesthetics; it's about establishing a personal connection with your timepiece. Your customised Seiko watch becomes a unique representation of your personality, style, and preferences. It transforms into a conversation starter, drawing the attention and admiration of those who appreciate the art of horology.
Wellingtime is your partner in the captivating journey of self-expression and creativity through customising your Seiko watch. Seiko's reputation for quality and innovation, combined with our expertise and a wide array of customisation options, provides the ideal canvas for personalisation. Whether you're changing the strap, dial, bezel, crystal, case coating, movement, or all of the above, the result is a watch that's uniquely yours, a true masterpiece that tells your story on your wrist.
Don't settle for an off-the-shelf timepiece. Elevate your style with Wellingtime by customising your Seiko watch, including case coatings and movement upgrades, and create a watch that's a true reflection of your individuality and unique taste. Your journey with Wellingtime begins now, and the possibilities are endless.
Get intouch here or on the socials – Facebook Instagram Twitter – X