WellingTime offers a watch gold plating service for your Seiko Mod or any other watch brand you may want to have gold plated.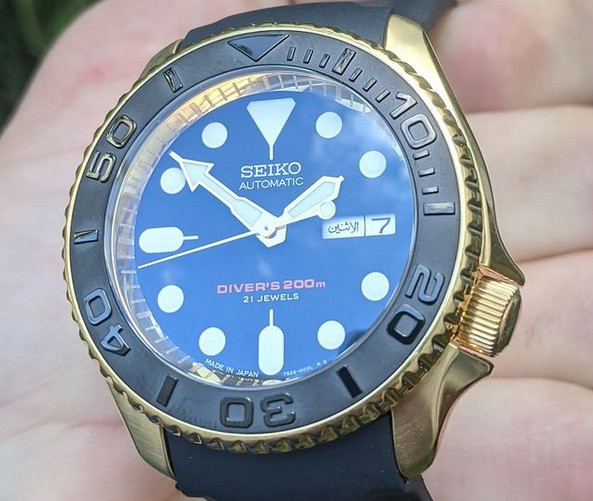 What is Gold Plating
The gold plating process deposits a thin layer of gold onto a surface of a material. These materials are not often referred to as base metals but gold plating is not limited to metals there are other substrates which can also be plated in gold.
The gold is applied to the desired material through a chemical or electrical plating process. The thickness of the gold plating is denoted in microns or micro metres.
Watch Gold Plating Service
The watch Gold Plating service offered by WellingTime will apply 0.5 microns of 18 carat gold to you watch and/or bracelet, through an electro plating process. This amount is sufficient for daily wear and tear as the gold plating his a hard finish so will not chip away. Your watch movement, dial and hands will be removed and the case disassembled into its component parts giving you freedom to plate not just the whole watch but individual components should you wish. Plating the crown and bezel is a popular bi-metal style you could add to almost any watch.
Once the gold plating process is complete your watch case will be reassembled the water resistance tested. Gold plating can be applied to any watch of any age although a freshly polished watch or new watch will yield the best results.
Gold Colours & Effect
The watch gold plating service standard colour effect is an 18 carat gold finish which is a little more "red" than a 22 or 24 carat which will appear more yellow. The standard finish 18 carat is typical of contemporary gold sports watches. A low carat number will be more hard wearing than a high carat. With that said, all of the plating options offered have relatively equal hard wearing properties.
Colour Options:
18 Carat
22 Carat
24 Carat
Rose Gold
Rhodium
Blue Rhodium
Re-plating & Used watches
Re applying gold plating to your watch will often require the original plate to be removed and the base metal polished. Touch ups on used watches where the gold plating tends to wear can be achieved with relative ease without the need for polishing. For used watches that are not already gold plated you may want to consider having the watch polished if it is heavily tarnished as this will show through the gold plating but that may be the effect you are going for.
Watch Gold Plating Service – Bi-Metal Bracelets
Bracelets come in many configurations. One or more metals combined is often referred to as Bi-Metal. Bi-Metals bracelets are not always they two metals they appear to be. Quite often the Gold material found in lower priced watches and some luxury watches is gold plated and not real gold, which is hardly surprising with the current spot price of precious metals. Bracelets often take a lot more wear and tear than the watch. The good news is this can be bought back to life even where the components are fixed.
Upon Arrival
Processing
Gold Plating – Application
WellingTime is able to offer a variety of plating services for new or used watches. Both tank plating solutions for an over all covering and pen solutions for touch ups and those intricate details that you may wish to highlight. We use an electro plating process with an 18 Carat finish as standard. 18 carat gold is a great option to coat your steel watch as gold watches are typically made from18 carat Gold.
Please get in touch on the contact page if you would like add a little gold to your watch of if you would like to see the tank plating in process head over to Instagram and there are a number of reels and more photos.